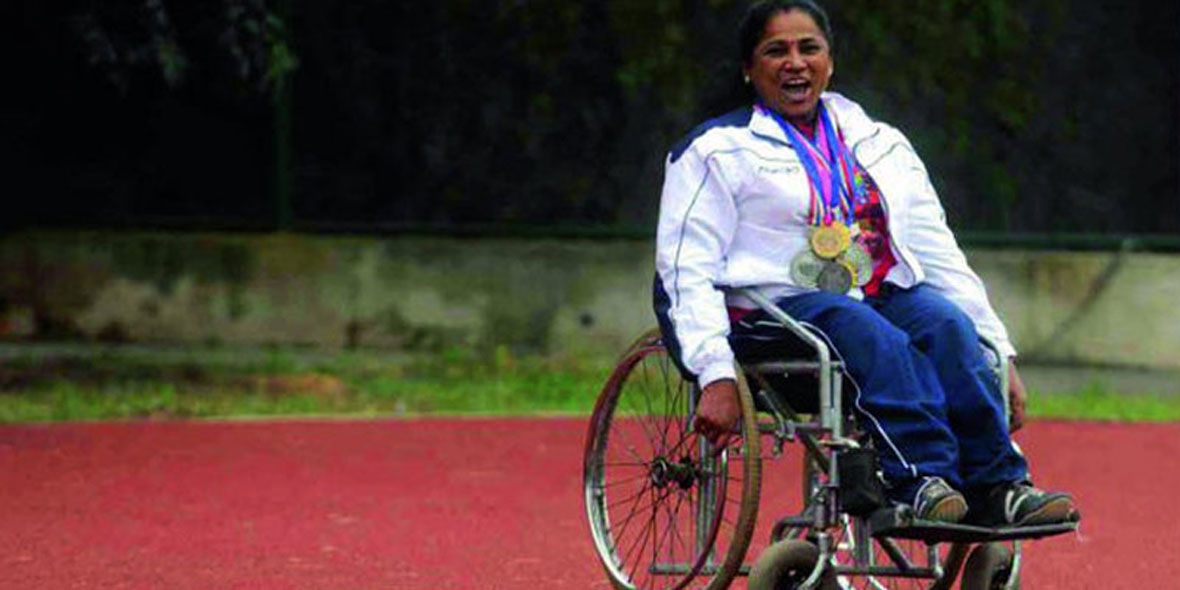 When she was a baby, polio paralysed her whole body. She has had over 30 surgeries for broken bones in her legs. Although electric shock therapy for two years helped her upper body regain strength, her body wasted away below the waist.
Despite this, Malathi Krishnamurthy Holla has won 389 golds, 27 silvers and 5 bronzes at national and international events, most of them on a rented wheelchair. At 56, she is still the fastest female Indian athlete on a wheelchair.
Her father was always determined to make her self-reliant and confident. He made sure she got a sound education. During her education, she further developed the parts of her body that were strong and got interested in wheelchair sport. She also learned to be independent.
"I don't think I am a disabled person. Of course, I am disabled physically. But that is just one part of my body. My self-confidence is not paralyzed", she once said in an interview.
It was never easy, but Malathi was a fighter. For instance, at college in Bengaluru, when she found that all her classes were on the upper floors, she went to the principal, explained the problem and asked if her classes could be moved to the ground floor. They were! Malathi loved the challenge of the competitive sport. She trained hard, even though she didn't have the most important piece of equipment needed by a disabled athlete – a racing wheelchair!
In Seoul 1988, when Malathi Krishnamurthy Holla was selected to represent India at her first Paralympic Games, she was ecstatic. The track and field athlete, known for her 100m and 200m finishes, was also a whiz at shot-put, javelin and discus throws. Since then, Malathi has represented India at the Paralympic Games in Barcelona, Athens and Beijing; and the Asian Games in Beijing, Bangkok, South Korea and Kuala Lumpur. She is also a manager with Syndicate Bank.
One can decipher where her strength comes from when she says: "I believe in reinventing myself and learning new things everyday. The only disability in someone can be an inferiority complex."
The metamorphosis from Malathi on a wheelchair to a Padma Shri Award winner (first disabled person to receive this award in 2001) is an incredible story of grit and determination. She is also an Arjuna Awardee (she campaigned for this award to be given to disabled athletes and finally received it in 1995) with over 400 medals, an extraordinary tale of grit. Today, she runs Mathru Foundation, a home for disabled children from rural India, in Bangalore. She has also received KK Birla Award and Eklavya Award from the Karnataka Government in 1995 and was named Woman of the Year, 1999 by American Biographical Institute, USA. In the same year, International Biographical Centre, Cambridge, UK, also named her International Woman of the Year.
At the release of her biography, A Different Spirit, in 2009, she said, "I took up sports and decided to do something different in life. Yes, we are different and so even our lives should be a shining example of that difference." Her biography has been inspiring thousands of people to rise above their physical handicap.
Watch the inspirational talk by Padma Shri Dr. Malathi Krishnamurthy Holla
Image source, credit and rights: yourstory.com